<iframe width="1280" height="720" src="https://www.youtube.com/embed/g91HUDZ27T8" frameborder="0" allowfullscreen></iframe>
Preet and Everything
It's the last episode of Season Three, and because we don't want to see you fall victim to the summer slide, we're talking to Preet Banerjee about enough interesting stuff to keep you thinking until Season Four drops this fall, like:
0.33 – Why are there so many mutual funds?
1.36 – Preet explains everything (including why there are so many coffee shops on the same corner)
7.06 – Does investor literacy affect prices?
8.52 – Do advisors or investors drive poor investing decisions?
10.56 – Is 'financial advising' a real profession?
14.00 – How do you measure the value of financial advice?
21.10 – Can you measure 'qualitative' results?
23.00 – What's the difference between Phenomenon and Data?
26.00 – Financial literacy… what is it good for?
31.00 – Decision fatigue – chocolate cake or fruit?
42.24 – Cash flow management – the foundation of it all
Special gold-star emojis go to our intrepid co-host Chris Enns, who edited and uploaded this episodes between flights on his way to Paris….as one does.

Because Money S3 Ep14 | Season Finale with Preet Banerjee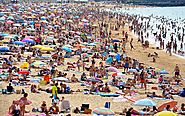 Mentioned by Preet in his discussion about competition in mutual fund fees and two guys selling ice cream on a beach. A heavy 18-pager, for those theorists among us.

Financial health starts with self-awareness...
It's easy to roll your eyes at the artist/financial planner who's trying to convince you that 'true...